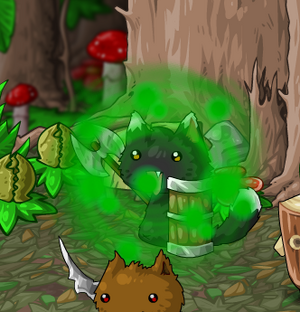 Acid is a Poison-element special skill available for all characters in Epic Battle Fantasy 4. It is exclusive to the Steam release of the game and the Premium Pack (except the Kongregate version of it).
Description
Upon casting, the target is simply blasted with corrosive, green acidic mist. This skill deals high magical Poison-elemental damage, with chances to inflict Poison on the target as well as debuff the target's Magic Defence.
Epic Battle Fantasy 4
In the Steam version, it can be found in a chest on the right of the Waste Disposal Plant-themed spike puzzle screen halfway through Battle Mountain. The Hammer is required to get this far.
However, in the Kongregate version of the game, Acid was accidentally replaced[1] with 1 Titanium in the chest, making it impossible to obtain during normal gameplay. It can still be used normally if a save with it already unlocked is exported from the Steam version.
Acid
May debuff targets' magic defence. May poison targets.
Target
Type
Element
Status Effect
Acc
Crit
RdF
Single
100%


100%
10%
10%
Level
Power
Status Chance
Status Strength
MP
AP Cost
1
50
20%
90%
2x
20%
8
100
2
70
25%
90%
2x
25%
12
500
3
95
30%
95%
2x
30%
16
1000
4
120
35%
95%
3x
40%
20
2000
5
150
40%
100%
3x
50%
26
4000
6
180
50%
100%
3x
50%
32
8000
Note: Prior to the Battle Mountain update, the skill had no status chance and debuff chance specified for level 6, thus it could not inflict them when maxed. It also had only 2x Poison strength, at any level.
Community content is available under
CC-BY-SA
unless otherwise noted.