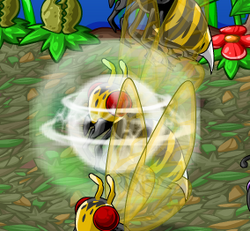 Airwave is an advanced Wind-element special skill available for Matt, Natalie, and Lance in Epic Battle Fantasy 4 or Natalie, Lance, and NoLegs in Epic Battle Fantasy 5. It is the single-target version of Shockwave.
Description
Airwave is a small, localized, green burst of air with what appear to be small shockwaves emanating from the epicenter. In addition to dealing magical Wind damage, it has a chance to Stagger the target.
Epic Battle Fantasy 4
Airwave is technically unlocked at the start of the game, though Matt is the first character who can learn it.
It is required to learn its multi-target version — Shockwave.
Airwave
Advanced wind magic. May stagger targets.
Target
Type
Element
Status Effect
Acc
Crit
RdF
Single
100%
120%
10%
10%
Level
Power
Status Chance
Status Strength
MP
AP Cost
1
60
20%
--
14
250
2
95
25%
--
18
500
3
130
30%
--
22
1000
Airwave is the upgraded form of Air, and becomes Shockwave at level 5.
Airwave
Advanced wind magic which hits a single target.
Target
Type
Element
Status Effect
Acc
Crit
RdF
Single
100%
100%
10%
10%
Level
Power
Status Chance
Status Strength
AP Cost
3
60/2
20%
2x
150
4
90/2
25%
2x
500