Will revive when killed for x turns.Auto-Revive's hover-over tip
Auto-Revive, named Autolife prior to EBF4, is a recurring positive status effect in the Epic Battle Fantasy series, introduced in EBF2. Its icons are a white wing (in EBF2) and a golden halo (in later games). Auto-Revive immediately revives the target when they are killed, with all buffs, debuffs and status effects (except for players in EBF2) intact, besides Auto-Revive itself. The amount of health restored after revival varies from game to game, usually only a portion of maximum health.
Like most status effects, it also vanishes after the battle (in EBF3 onwards) / upon reaching a checkpoint (in EBF2), when inflicted by Dispel (except in EBF3), or after a number of turns.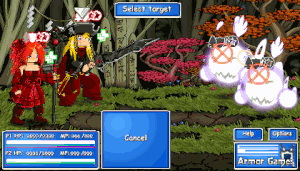 Additionally,
It is absent among foes with the exception of Spirit and PHOENIX, whose signature ability is to enter battle with Auto-Revive status on them.
If an attack is multi-hit and lasts for long enough, the target may first die, then revive and get hurt by successive hits, possibly dying twice to the same attack. In other words, Auto-Revive doesn't always save from long multi-hit attacks like Legend.
Dying with Auto-Revive is still considered as a death for game statistics (in EBF3 onwards).
Trivia