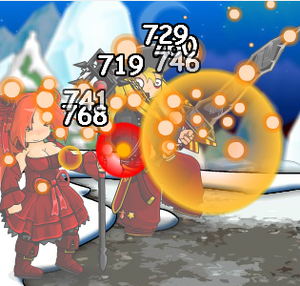 Fire Rain is a Fire-elemental skill in Epic Battle Fantasy 2 and 3. It is a rarely seen skill, used only by a single foe in the former, and only by a consumable item in the latter.
Description
When cast, a flurry of fireballs rain down on the party dealing damage. In EBF2 the last hit also has a high chance of debuffing the party's Attack.
Additionally, Lava Turtle (appears in EBF2, 3 and 4) has a similarly looking ability, but its orbs fly horizontally rather than fall onto the targets from above.
Foe Users
Epic Battle Fantasy 2
Epic Battle Fantasy 2
Inaccessible to players, it is used only by Giga Golem when transforming into the Fire form.
Statistics
Name
Target
Power
Type
Element
Status Effect
Acc
RdF
Fire Rain
All
3200/4
800
100%
--
70%
--
30%
--

140%
10%
Epic Battle Fantasy 3
It is accessible to players only through the Magmaball item. No foes can use it.
Statistics
Name
Target
Power
Type
Element
Status Effect
Acc
Crit
RdF
Fire Rain
All
Variable
100%
--
--
--
95%
10%
10%
Notes: 75/5 power without Red Ribbon (female hat) equipped on the user, 120/5 (1.6x) with. Like Meow Meow, ignores user's Magic Attack stat and any bonuses to it, instead using the user's level * 3 formula to get a value to multiply the skill's power by. Also ignores Accuracy buffs and equipment bonuses to it, yet still considers the base stat and the bonus from permanent stat food, Lollipop.