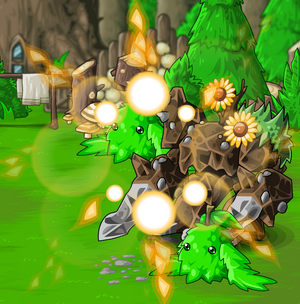 Fire Spin is a Fire-element special skill available for all characters in Epic Battle Fantasy 4 and for Natalie, Anna and NoLegs in Epic Battle Fantasy 5. It is exclusive to the Steam release of the game and the Premium Pack in EBF4 and is part of both the Steam and the Web version of the game in EBF5.
Description
When cast, a small spiral of flames appears over the enemy wave, hitting them all for Fire-based magic damage and frequently inflicting Burns on all enemies. It also can debuff their defence.
In EBF4, this move serves Anna best from an elemental standpoint, as she lacks any fire spells or attacks at all besides this and Hellfire. That said, the most useful aspect of Fire Spin is the defence debuff. If one has Anna in a supporting role with Matt as the main offense, Fire Spin can be used to lower the defence of foes thus allowing Matt to dish out even heavier damage.
Despite there being a different set of skills available in EBF5, it still should be used for debuffing foes more than as an offensive attack. It generally is best given to a party member with equipment that will allow them to have more powerful debuffs, such as The Deceased.
Foe Users
Epic Battle Fantasy 4
Epic Battle Fantasy 5
Epic Battle Fantasy 4
Found in the Premium-exclusive Battle Mountain area, specifically in one of four top-right chests at the Battle Mountain entrance. Thermal Boots are required to get there.
Fire Spin
Targets all foes. Burns the targets and debuffs their defence.
Target
Type
Element
Status Effect
Acc
Crit
RdF
All
100%


130%
0%
10%
Level
Power
Status Chance
Status Strength
MP
AP Cost
1
10
75%
50%
3x
15%
10
100
2
15
80%
60%
3x
15%
16
500
3
20
85%
70%
3x
20%
22
1000
4
30
90%
80%
4x
20%
30
2000
5
40
95%
90%
4x
25%
38
4000
6
50
100%
100%
4x [5x]
25%
46
8000
Note: Stats in brackets (below/right from actual) are for its pre-Battle Mountain update version.
Epic Battle Fantasy 5
Obtained by completing Shione's quest in the steroid shop in Redpine Town. Now has a one turn cooldown.
Fire Spin
Strong fire magic which hits all enemies.

May burn targets.
May debuff targets' defence.
Has a 1-turn cooldown.

Target
Type
Element
Status Effect
Acc
Crit
RdF
All
100%


100%
10%
10%
Level
Power
Status Chance
Status Strength
AP Cost
1
25
85%
70%
3x
15%
750
2
35
90%
80%
3x
20%
1500
3
45
95%
90%
3x
25%
3000
4
60
100%
100%
3x
30%
6000
Trivia
Fire Spin seems to be a nod towards the Pokemon move of the same name. Both are fire-based and deal fairly little damage in the attack itself, instead inflicting a status effect that deals residual damage over several turns.
Community content is available under
CC-BY-SA
unless otherwise noted.