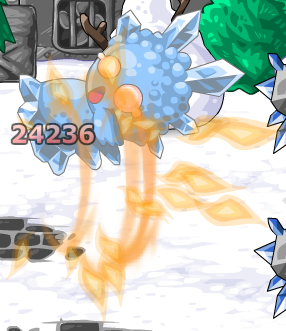 Flame Shot (also known as Flameshot) is is a basic Fire-elemental skill available for Lance in Epic Battle Fantasy 3 and 4.
Description
When cast, Lance shoots a bullet that will create a small fiery burst upon contact with the enemy.
Flame Shot is quickly replaced by Lance's more advanced Fire skills: Flame Burst and Bullet Hell, but since it is the only one of the three that targets a single foe, it may still be useful when enemy wave is composed of foes with varied Fire resistance.
Equipping Fire-based weapons such as the Red Vulcan or the Flamethrower will boost the power of Flame Shot.
In EBF4, Fire Elemental can also use Flame Shot.
Epic Battle Fantasy 3
Flameshot
Basic fire magic.
Target
Type
Element
Status Effect
Acc
Crit
RdF
Single
75%
--
110%
10%
20%
Level
Power
Status Chance
Status Strength
MP
AP Cost
1
45
--
--
4
15
2
55
--
--
6
30
3
70
--
--
8
60
Epic Battle Fantasy 4
Flame Shot may now inflict newly introduced Burn status effect. Lance will already have the skill on a second level when he joins the party in Crystal Caverns.
Flame Shot
Basic fire magic. May burn targets.
Target
Type
Element
Status Effect
Acc
Crit
RdF
Single
75%
100%
10%
10%
Level
Power
Status Chance
Status Strength
MP
AP Cost
1
40
30%
1x
4
15
2
55
35%
1x
6
30
3
70
40%
1x
8
60