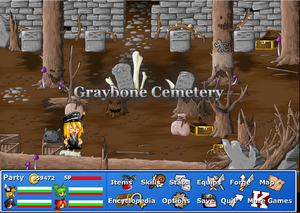 Graybone Cemetery is a location in Epic Battle Fantasy 4. It is located to the south of Greenwood Village and to the west of Whitefall Town, although only the latter entrance is accessible at the beginning of the game.
Unlike most of the other areas in the game, Graybone Cemetery is completely optional (a fact noted by Natalie upon your first visit). However, it is recommended to explore it, as it contains unique enemies and Dark-resistant equipment which will come in handy for the final boss.
Graybone Cemetery's theme is "Bloody Bloodlust".
Description
Map
Enemies
Trivia