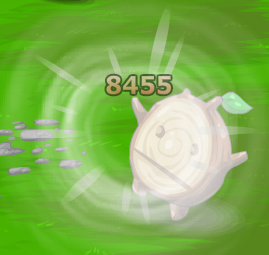 Gust is a basic Wind-elemental skill available for Anna in Epic Battle Fantasy 4.
Description
When cast, Anna blows on her ocarina, blasting the target with a small gust of wind, dealing minor magical damage. Gust is quickly replaced by its stronger variant - Whirlwind.
Equipping Wind-based weapons such as the Sky Feather or the Emerald Cyclone will boost the power of Gust.
Blue Clay, Fluffy Bat and Gem Idol can also use Gust.
Epic Battle Fantasy 4
Gust is one of Anna's default skills.
Gust
Basic wind magic.
Target
Type
Element
Status Effect
Acc
Crit
RdF
Single
100%
--
100%
10%
10%
Level
Power
Status Chance
Status Strength
MP
AP Cost
1
30
--
--
4
N/A
2
40
--
--
5
15
3
50
--
--
6
50