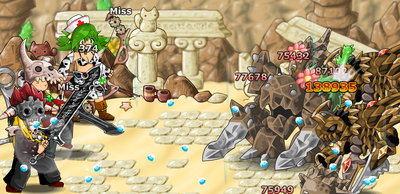 Hailstorm is an Ice-elemental special skill available for Natalie, Lance, and Anna in Epic Battle Fantasy 4.
Description
Hailstorm has a relatively low cost and decent power for said cost, at the expense of hitting allies as well for much less damage. This is typically considered not very useful, but under the right circumstances, like fighting fire enemies that can burn the party, it can be very useful, extinguishing burn on the party and enemies while simultaneously doing considerable damage to said enemies.
Epic Battle Fantasy 4
Hailstorm is unlocked by completing a quest in Goldenbrick Resort for Pam.
Hailstorm
Hits all foes and allies.
Target
Type
Element
Status Effect
Acc
Crit
RdF
Everyone
100%
--
80%
20%
10%
Level
Power
Status Chance
Status Strength
MP
AP Cost
1
19.8/3
--
--
10
100
2
39.6/3
--
--
15
500
3
59.4/3
--
--
20
2000
Community content is available under
CC-BY-SA
unless otherwise noted.