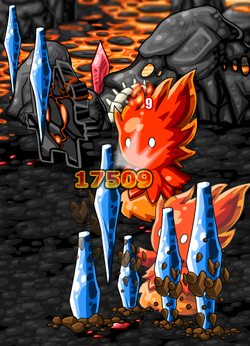 Icicles is an Ice-elemental special skill available for all characters in Epic Battle Fantasy 4.
Description
When cast, a series of sharp icicles drop onto the selected target from above. This deals moderately high, physical Ice damage with a chance to inflict Stagger. Icicles has slightly below average Accuracy and a higher critical hit rate.
Given that everyone but Anna can already learn a stronger offensive Ice skill, Icicles is generally fairly outclassed, and even on Anna, its highly random damage makes it very unreliable; its Stagger infliction chance is also too low to be useful for support.
Foe Users
Epic Battle Fantasy 4
Epic Battle Fantasy 4
Found in Crystal Caverns, in the top-left chest on the second block puzzle screen, reachable from the left or by breaking a boulder with The Hammer, which is found much later.
Icicles
Very random damage. May stagger targets. Hits twice.
Target
Type
Element
Status Effect
Acc
Crit
RdF
Single
50%
85%
30%
70%
Level
Power
Status Chance
Status Strength
MP
AP Cost
1
60/2
10%
--
8
150
2
90/2
10%
--
12
400
3
120/2
12%
--
16
1000
4
150/2
12%
--
21
2500
5
180/2
15%
--
26
5000