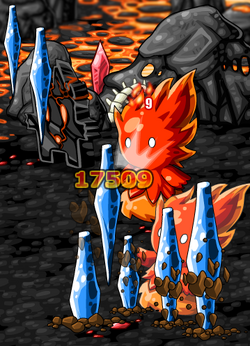 Icicles are an Ice-elemental special skill available for all characters in Epic Battle Fantasy 4.
Description
This section is incomplete. You can help Epic Battle Fantasy Wiki by adding required information to it.
To do: Visual & perfomance description.
Crystal Golem (only in Ice mode), Diamond Golem, Ice Golem and Wooly Mammoth can also use Icicles.
Epic Battle Fantasy 4
Found in Crystal Caverns, in the top-left chest on the second block puzzle screen, reachable from the left or by breaking a boulder with The Hammer, which is found much later.
Icicles
Very random damage. May stagger targets. Hits twice.
Target
Type
Element
Status Effect
Acc
Crit
RdF
Single
50%
85%
30%
70%
Level
Power
Status Chance
Status Strength
MP
AP Cost
1
60
10%
--
8
150
2
90
10%
--
12
400
3
120
12%
--
16
1000
4
150
12%
--
21
2500
5
180
15%
--
26
5000