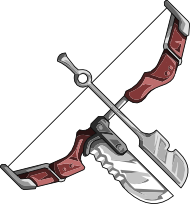 For the similarly-named EBF5 bow, see
Iron Tusk
.
The Iron Tooth is a non-elemental bow available for Anna in Epic Battle Fantasy 4.
Description
The Iron Tooth is a longbow with a modern aesthetic. It is primarily made of reddish-brown metal, with silver metal forming the grip and details on the ends of the limbs. A dark grey piece of metal projects from where the grip meets the lower limb, serving as the anchor point for a large silver blade with a partly serrated edge. The arrows are made of dull silver metal, with a ring near the tail and a huge, bladed head with a small notch in the cutting edge.
The Iron Tooth primarily focuses on Anna's physical strength, providing the highest Attack bonus of all bows and a solid boost to Defence; however, this comes at the cost of a very low Magic Attack bonus and small Accuracy and Evade penalties. It may Stagger the targets with its weapon-elemental skills - including its Combo Shot counterattack - which allows Anna to set up herself or her allies for a powerful blow in addition to dealing good damage. On the other hand, its relative lack of resistances can leave Anna vulnerable to retaliation, especially from magic attacks.
The Iron Tooth resists Stagger, becoming fully immune at Level 5.
Epic Battle Fantasy 4
The Iron Tooth can be bought in the Goldenbrick Resort Equipment Shop for 300,000 gold.
Iron Tooth
May stagger targets. Counter attacks with Combo Shot.
Statistics
Stat Bonus
Resistance
LV1
LV2
LV3
LV4
LV5
LV1
LV2
LV3
LV4
LV5
LV1
LV2
LV3
LV4
LV5
-
-
-
-
-
-
-
-
-
-
20%
40%
60%
80%
100%
20%
35%
50%
65%
80%
-
5%
10%
15%
20%
-
-
-
-
-
-
-
5%
10%
15%
20%
-
-
-
-
-
-
-
-
-
-
-
-10%
-10%
-10%
-10%
-10%
-10%
-10%
-10%
-10%
-10%
Element
----
Spells & Statuses
Power
Chance Modifier
Attack Status
Auto Skill
--
--
10%
15%
20%
25%
30%
Bonus Skill
--
--
-
-
-
-
-
Auto Status
--
--
-
-
-
-
-
-
--
-
-
-
-
-
Forging Information
Lvl
Requirements
Lvl
Requirements
2

x 3
--
--
3

x 3

x 3
--
4

x 20

x 20

x 20
5

x 1

x 30
--
Trivia