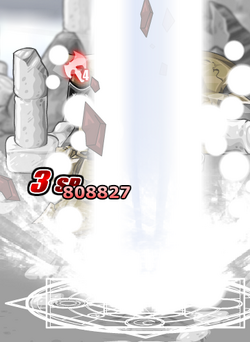 Judgement is one of Natalie's recurring spell in the Epic Battle Fantasy series.
Description
Judgement creates an elaborate runic pattern beneath a single target before dropping a massive white beam of energy upon them, dealing heavy holy damage.
In EBF4, Diamond Golem, Gold Dragon and Light Godcat can also use judgement.
Judgement is part of Natalie's WMagic skill set, as well as one of her only offensive White Magic skills. It damages a single target for massive Holy damage, while also heals Natalie for a portion of dealt damage. Judgement costs 100 mana to use.
Judgement has 100 base power, 120 accuracy and costs 100 mana. One Skill Bonus is available to augment Judgement:
Genesis: Boosts Judgement by 40%
Judgement no longer heals Natalie after damaging the enemy.
Judgement
Expert holy magic. Level 3: May lower target's accuracy.
Target
Type
Element
Status Effect
Acc
Crit
RdF
Single
100%
100%
10%
10%
Level
Power
Status Chance
Status Strength
MP
AP Cost
1
100
--
--
25
1500
2
140
--
--
33
3000
3
180
40%
20%
40
6000
Requirement(s)

Judgement now has a chance to weaken the target.
Judgement
Expert holy magic. High accuracy. May weaken targets.
Target
Type
Element
Status Effect
Acc
Crit
RdF
Single
100%
150%
10%
10%
Level
Power
Status Chance
Status Strength
MP
AP Cost
1
140
40%
4x
25
1600
2
180
50%
4x
35
3600
3
220
60%
4x
45
10000
Requirement(s)