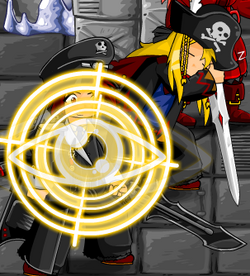 Lock On is a stat-buffing skill available for Lance in Epic Battle Fantasy 3 and a special skill for all Matt, Lance, and Anna in Epic Battle Fantasy 4.
Description
Upon casting, a yellow crosshair with an eye symbol in front of it briefly appears over the target before disappearing.
Lock On provides a great buff to the target's Accuracy, which will fade away by 5% each turn.
Epic Battle Fantasy 3
Lock On is Lance's unique skill.
Lock On
Buffs one ally's accuracy.
Target
Type
Element
Status Effect
Acc
Crit
RdF
Ally
--
----
--
--
--
Level
Power
Status Chance
Status Strength
MP
AP Cost
1
--
--
40%
5
50
2
--
--
55%
10
200
3
--
--
70%
15
800
Note: The in-game Power numbers are merely used to visualize Accuracy buff strength; this skill does not heal or damage the enemies in any way.
Epic Battle Fantasy 4
Lock On became a Special Skill available for Matt, Lance and Anna, instead of being exclusive to Lance. It is taught to Lance by default when he joins the party near Crystal Caverns.
Lock On
Buffs an ally's accuracy.
Target
Type
Element
Status Effect
Acc
Crit
RdF
Ally
--
----
--
--
--
Level
Power
Status Chance
Status Strength
MP
AP Cost
1
--
--
40%
5
50
2
--
--
55%
10
200
3
--
--
70%
15
800