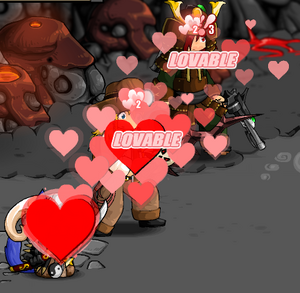 Loving Aura is a status-inflicting skill available for NoLegs in Epic Battle Fantasy 5.
Description
Upon use, a large red heart appears on the targets, being quickly surrounded by a cluster of smaller pink hearts, giving the targets the Lovable status.
Epic Battle Fantasy 5
Loving Aura is the upgraded from of Cherish, it can either target all allies or be focused on a single ally. It uses Cherish's animation.
Loving Aura
Gives lovable status to all players. It can also be focused on one player for a stronger effect.
Target
Type
Element
Status Effect
Acc
Crit
RdF
Allies | Ally
--
----
--
--
--
Level
Power
Status Chance
Status Strength
AP Cost
3
--
--
2x | 9x
2500
Community content is available under
CC-BY-SA
unless otherwise noted.