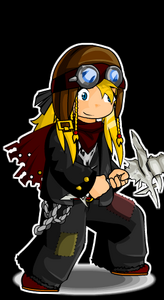 The Pilot Goggles are a male hat available in Epic Battle Fantasy 3. It does not have any armor counterparts.
Description
The Pilot Goggles are a brown, old-style aviator's cap with attached goggles and a small chinstrap that's left unbuckled.
The Pilot Goggles provide a massive Accuracy boost, the highest among male hats. It also provides a modest boost to Defence and Magic Defence. What makes the Pilot Goggles unique is their ability to raise the Stun duration of Stunners to four, allowing them to easily put foes out of commission if they do not resist Stun. That said, if the player simply wants massive Accuracy, they should consider the Ninja Hood; while it doesn't provide nearly as much Accuracy, it is still high and also comes with a good Evade stat and wider-ranging resistances.
The Pilot Goggles resist Accuracy debuffs, becoming immune at Level 5.
Found in the restricted 20 Medals Area, which becomes accessible after getting 20 Medals.
Pilot Goggles
Goggles for high accuracy. Boosts the stun time of Stunners.
Statistics
Stat Bonus
Resistance
LV1
LV2
LV3
LV4
LV5
LV1
LV2
LV3
LV4
LV5
LV1
LV2
LV3
LV4
LV5
-
-
-
-
-
-
-
-
-
-
20%
40%
60%
80%
100%
-
-
-
-
-
-
5%
5%
10%
10%
-
-
-
-
-
-
-
-
-
-
-
-
5%
5%
10%
10%
-
-
-
-
-
-
10%
15%
20%
25%
30%
-
-
-
-
-
Spells & Statuses
Power
Chance Modifier
Auto Skill
--
--
Bonus Skill
--
--
Forging Information
Lvl
Requirements
Lvl
Requirements
2

x 2
--
--
3

x 2
--
--
4

x 3

x 2
--
5

x 6
--
--