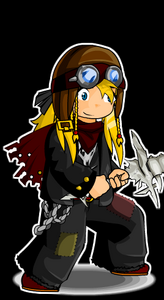 The Pilot Goggles are a male hat available in Epic Battle Fantasy 3. It does not have any armor counterparts.
Description
As the name suggests, it includes an old-style aviator's cap with attached goggles and a small chinstrap.
The Pilot Goggles greatly increase the wearer's Accuracy; more so than any male hat. They also lightly increase Defence and Magic Defence, as well as giving immunity to Accuracy debuffs at max level. The Goggles also double the Stun duration of Stunners, from two turns to four.
Found in the restricted 20 Medals Area, which becomes accessible after getting 20 Medals.
Pilot Goggles
Goggles for high accuracy. Boosts the stun time of Stunners.
Statistics
Stat Bonus
Resistance
LV1
LV2
LV3
LV4
LV5
LV1
LV2
LV3
LV4
LV5
LV1
LV2
LV3
LV4
LV5
-
-
-
-
-
-
-
-
-
-
20%
40%
60%
80%
100%
-
-
-
-
-
-
5%
5%
10%
10%
-
-
-
-
-
-
-
-
-
-
-
-
5%
5%
10%
10%
-
-
-
-
-
-
10%
15%
20%
25%
30%
-
-
-
-
-
Spells & Statuses
Power
Chance Modifier
Auto Skill
--
--
Bonus Skill
--
--
Forging Information
Lvl
Requirements
Lvl
Requirements
2

x 2
--
--
3

x 2
--
--
4

x 3

x 2
--
5

x 6
--
--