For the Limit Break in Epic Battle Fantasy 4 and 5 originally called Rapture, see Hidden Power. For the location in Epic Battle Fantasy 5, see The Rapture.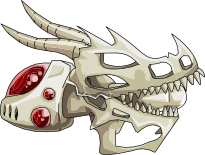 The Rapturer is a non-elemental gun available for Lance in Epic Battle Fantasy 3.
Description
The Rapturer is a relatively small gun, with a predominantly white frame that incorporates the severed head of a Zombie Hydra. The actual gun mechanism is located behind the skull, where the user rests his shoulder, and the barrel protrudes between its jaws. The stock of the gun is adorned with several shiny red domes, as well as small vents.
The Rapturer has mediocre Attack and average Magic Attack, but its main niche is reducing the damage output of enemies. Its weapon-elemental skills can reduce the victim's Magic Attack, while its Unleash does the same for their Attack; when these traits are combined, it can greatly weaken enemy blows from both sides of the offensive spectrum.
The Rapturer resists Dispel, becoming fully immune at Level 5.
The Rapturer is found in Rock Lake, in a lone chest amid the maze of rocks and piers. The chest can only be accessed by taking the middle path in the cave to the east.
Rapturer
Lowers foe's magic attack.
Unleash: Attack which lowers the target's attack.
Statistics
Stat Bonus
Resistance
LV1
LV2
LV3
LV4
LV5
LV1
LV2
LV3
LV4
LV5
LV1
LV2
LV3
LV4
LV5
-
-
-
-
-
-
-
-
-
-
20%
40%
60%
80%
100%
-
10%
20%
30%
40%
-
-
-
-
-
-
-
-
-
-
-
-
10%
20%
30%
40%
-
-
-
-
-
-
-
-
-
-
-
-
-
-
-
-
-
-
-
-
-
Element
----
Spells & Statuses
Power
Chance Modifier
Attack Status
Auto Skill
--
--
20%
40%
60%
80%
100%
Bonus Skill
--
--
20%
20%
20%
20%
20%
Forging Information
Lvl
Requirements
Lvl
Requirements
2

x 2
--
--
3

x 4
--
--
4

x 8
--
--
5

x 10

x 10

x 10