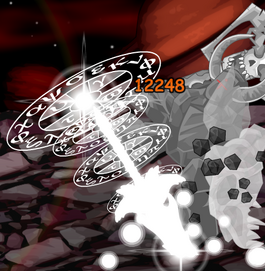 Seiken is one of Matts skills that can be found in all Epic battle fantasy games. It does medium to high light element damage on one foe. In Epic battle fantasy 3, it also has a chance of stunning the target, if Seiken is fully upgraded.
Design
Matt points one of his hands forwards, his fingers pointing forward as well. In front of his hand, a magic circle appears, akin to the one that comes forth when Natz uses a spell. A summoning circle comes forth above the opponent, summoning a spear of light which crash down into the opponent.
Trivia
Seiken has also appeared in a few other places, like in Brawl Royale.
Seiken is Japanese for "Holy Sword", and is inspired by Beatrix's ability in Final Fantasy 9.