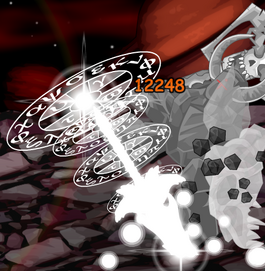 Seiken is a skill in EBF series. It is first introduced as one of Matts Bushidos in EBF1. It has ever since appear in EBF2 and EBF3.
As a Skill
When used, a summoning circle comes forth above the opponent, summoning a spear of light which crash down into the opponent. It does medium to high light element damage on one foe. In EBF3, it also has a chance of stunning the target when fully upgraded.
Trivia
Seiken has also appeared in a few other places, like in Brawl Royale.
Seiken is Japanese for "Holy Sword", and is inspired by Beatrix's ability in Final Fantasy 9.