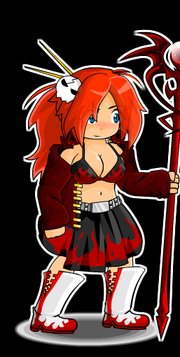 The Skull Hairclip is a female headgear available in Epic Battle Fantasy 3. Its armor counterpart is the Flame Skirt.
Description
The Skull Hairclip is a small white hairclip resembling a stylized skull, with black eyes set in a glare and a small crack over its right eye. It also includes a pair of light brown, chopstick-like needles that are used to tie Natalie's hair into a ponytail.
The Skull Hairclip provides an average amount of Defence and Magic Defence, as well as significant Evade boost, but is most noticeable for its massive Accuracy bonus, which is the highest in the game and twice as strong as the next most powerful female hat. This ensures that Natalie will hit her marks in virtually any scenario; however, situations where Accuracy is a concern are very rare, especially considering the Skull Hairclip's late availability. As such, the player may opt for the Cat Ears, whose better Evade and more useful resistances generally make up for its lower Accuracy boost.
The Skull Hairclip resists Accuracy and Evade debuffs, becoming immune to both at Level 5.
The Skull Hairclip is found inside a chest in the restricted 40 Medals Area, which becomes accessible after getting 40 Medals.
Skull Hairclip
Sniper's hairclip.
Statistics
Stat Bonus
Resistance
LV1
LV2
LV3
LV4
LV5
LV1
LV2
LV3
LV4
LV5
LV1
LV2
LV3
LV4
LV5
-
-
-
-
-
-
-
-
-
-
20%
40%
60%
80%
100%
-
-
-
-
-
-
-
-
5%
10%
20%
40%
60%
80%
100%
-
-
-
-
-
-
-
5%
5%
10%
-
-
-
-
-
-
10%
15%
20%
25%
30%
-
-
-
5%
10%
Spells & Statuses
Power
Chance Modifier
Auto Skill
--
--
Bonus Skill
--
--
Forging Information
Lvl
Requirements
Lvl
Requirements
2

x 1
--
--
3

x 1
--
--
4

x 3

x 4
--
5

x 10

x 7
--
Trivia
The Skull Hairclip (and its associated armor, the Flame Skirt) is based on the outfit of Yoko Littner from the Tengen Toppa Gurren Lagann anime. Its description and stats further reference Yoko's preference for sniping her enemies, both in and out of a Gunmen.
The Ninja Chopsticks of Epic Battle Fantasy 5 can be considered the spiritual successor of the Skull Hairclip, being a high-Accuracy female hat that appears as two chopsticks used to tie back the wearer's hair and a small object worn on the side of her head.