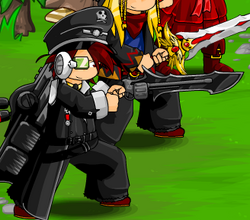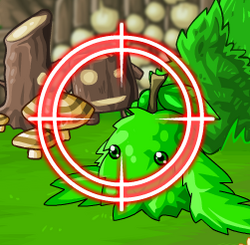 "BOOM! Headshot!"
―Lance, Epic Battle Fantasy 4

Snipe is a weapon-elemental skill available to Lance in Epic Battle Fantasy 3 and 4.
Description
Lance dons his scanner and aims his gun at a single foe, making red crosshairs appear over his target. After a brief delay, he fires at them, dealing moderate physical damage.
With its extra accuracy, it's guaranteed to hit the targets in just about any realistic combat situation. It also secretly has triple the standard critical hit rate in both games.
Dark Lance can also use Snipe.
Epic Battle Fantasy 3
Snipe
Very high accuracy attack.
Target
Type
Element
Status Effect
Acc
Crit
RdF
Single
300%
30%
10%
Level
Power
Status Chance
Status Strength
MP
AP Cost
1
40
(100%)
(100%)
8
40
2
60
(100%)
(100%)
12
150
3
100
(100%)
(100%)
16
500
Note: Has 65% chance to trigger bonus skill at 100% of host skill's base power.
Epic Battle Fantasy 4
Lance will already have two levels in Snipe when he joins the party in the Crystal Caverns.
Snipe
Element and effects depend on current weapon. High accuracy.
Target
Type
Element
Status Effect
Acc
Crit
RdF
Single
300%
30%
10%
Level
Power
Status Chance
Status Strength
MP
AP Cost
2
80
(100%)
(100%)
10
N/A
3
120
(100%)
(100%)
14
600