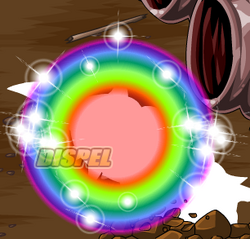 "I don't really have a lot of attacks that are affected by my weapon, but this is one of them."
―Natalie, Epic Battle Fantasy 4

Spectrum is a weapon-elemental skill available for Natalie in Epic Battle Fantasy 4.
Description
Spectrum creates a ring of rainbow-colored light over one enemy, dealing moderate magic damage. As with Natalie's standard attack, its element and special effects are determined by her currently-equipped weapon.
Epic Battle Fantasy 4
Spectrum
Element and effects depend on current weapon.
Target
Type
Element
Status Effect
Acc
Crit
RdF
Single
100%
10%
10%
Level
Power
Status Chance
Status Strength
MP
AP Cost
1
50
(100%)
(100%)
10
60
2
70
(110%)
(100%)
15
250
3
100
(120%)
(100%)
20
700
4
130
(130%)
(100%)
25
1500
Requirement(s)