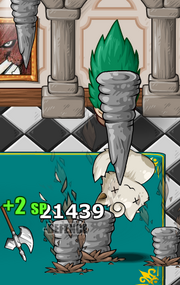 Stalactites is an Earth-elemental skill in Epic Battle Fantasy 5, used primarily by foes, weather, or through special effects of equipment.
Description
When cast, 5 stalactites fall off from above the target, three of which stalactites hit the target, dealing physical Earth-elemental damage with a chance of inflicting Stagger.
Epic Battle Fantasy 5
Stalactites can be accessed by players only as a bonus spell from the Hyper Drill (sword). May also appear as a result of the Stalactites weather.
Statistics
Name
Target
Power
Type
Element
Status Effect
Acc
Crit
RdF
Stalactites
Single
Variable
75%
75%
2x
100%
10%
10%
Notes: Power is 90/3 when initiated by Hyper Drill, or 80/3 otherwise.
Community content is available under
CC-BY-SA
unless otherwise noted.