Swords are bladed weapons used in the Epic Battle Fantasy series. Their most prominent player user is Matt, (while some foes also can hold swords) who is usually seen carrying a large array of swords with him wherever he goes. As with the weapons of the other playable characters, Matt's swords come in all shapes and sizes, with various effects on his stats, abilities, and resistances.
Interestingly, some of Matt's weapons are not swords (such as the Gaia Axe or the Razorback guitar), but are classified as swords for the sake of simplicity, or even humor.
There are 7 swords in total.
This section is incomplete. You can help Epic Battle Fantasy Wiki by adding required information to it.
To do: Elemental affinity.
There are 11 swords in total.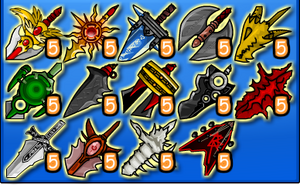 There are 14 swords in total.
---
---
There are 18 swords in total, 3 of them (1 of which was added in the Battle Mountain update) are exclusive to the Steam release of the game and the Premium Pack.
---
---
---
Notice: EBF5-related data is based off of the public beta, v0.16, and may change later.
There are 21 swords in total, 5 of which are currently exclusive to the paid Steam release and the outdated free Battle Demo.
Unlike in EBF4, paid equipment is scattered all around the list, but their slots will automatically be skipped on free versions of the game. The following table lists their positions in both versions (in format: row,column).
| Weapon | Free# | Paid# |
| --- | --- | --- |
| Heaven's Gate — 50% Holy | 1,1 | 1,1 |
| Berzerker — Non-elemental | 1,2 | 1,2 |
| Inferno — 50% Fire | 1,3 | 1,3 |
| Ice Needle — 50% Ice | 1,4 | 1,4 |
| Lightning Shard — 50% Thunder | 1,5 | 1,5 |
| Sapphire Saint — 50% Water | 1,6 | 1,6 |
| Black Fang — 50% Bio | 1,7 | 1,7 |
| The Chopper — Non-elemental | 2,1 | 2,1 |
| Giant Slayer — Non-elemental | 2,2 | 2,2 |
| Hyper Drill — 50% Earth | 2,3 | 2,3 |
| Emerald Smasher (Premium only) — 50% Bio | X | 2,4 |
| Devil's Fork (Premium only) — 50% Fire | X | 2,5 |
| Ultra Pro 9000X — Non-elemental | 2,4 | 2,6 |
| Club of Withering — Non-elemental | 2,5 | 2,7 |
| Crimson Razorback — 50% Wind | 2,6 | 3,1 |
| Dragon's Feather (Premium only) — 50% Wind | X | 3,2 |
| Golden Axe (Premium only) — 50% Thunder | X | 3,3 |
| Dark Stalker — 50% Dark | 2,7 | 3,4 |
| Fusion Blade (Premium only) — 50% Bomb | X | 3,5 |
| Soul Eater — 50% Dark | 3,1 | 3,6 |
| Love Blade — 50% Holy | 3,2 | 3,7 |
Other notable sword users