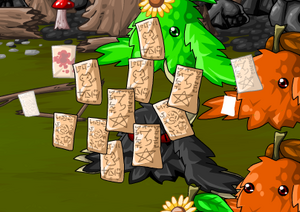 Talisman Seal is a Holy-elemental special skill available for Matt, Natalie, and Anna in Epic Battle Fantasy 4, in Epic Battle Fantasy 5, the skill is available to players only through the special effects of equipment.
Description
When cast, a group of paper talismans appear in front of the target, then quickly disappear.
It doesn't deal a lot of damage, but in EBF4 it is the second most reliable way to inflict Syphon onto a single target (eventually eclipsed by the post-Battle Mountain update Premium-exclusive Equilibrium sword), and the most reliable skill to debuff Magic Attack with.
In EBF5, Talisman Seal still debuffs Magic Attack, but now inflicts Curse instead of Syphon.
Sacred Rune can also use Talisman Seal.
Epic Battle Fantasy 4
Talisman Seal can be learned after completing a quest for Lemsip.
Talisman Seal
Syphons the target and debuffs their magic attack.
Target
Type
Element
Status Effect
Acc
Crit
RdF
Single
50%


100%
10%
10%
Level
Power
Status Chance
Status Strength
MP
AP Cost
1
30
80%
60%
2x
20%
15
500
2
40
90%
75%
2x
30%
18
1500
3
50
100%
90%
3x
40%
22
3000
4
60
110%
100%
3x
50%
26
6000
Epic Battle Fantasy 5
It's available to players as a bonus spell from the Celtic Cross (staff) and the Godly Book (cat toy).
Statistics
Name
Target
Power
Type
Element
Status Effect
Acc
Crit
RdF
Talisman Seal
Single
Varies
50%
100%
100%
3x
50%


80%
10%
10%
Notes: Power is 50 when initiated as a bonus spell or 10 otherwise.