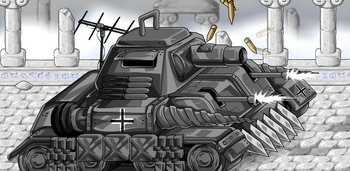 "Valkyrie, do you copy?! Machine gun that area in front of me right now!"
―Lance, Epic Battle Fantasy 4

Tank Guns (named simply Tank in EBF3) is a Bomb-elemental skill used by Lance in Epic Battle Fantasy 3 and 4.
Description
Upon casting, the Valkyrie will fire its dual mounted machine guns at the entire enemy wave, hitting them for Bomb-elemental damage. Seemingly due to the rapid-fire nature of the guns, this skill suffers from slightly reduced accuracy.
This skill tends to be overlooked in favor of Air Strike, due to the latter having higher damage output overall. However, as Tank Guns is guaranteed to hit all foes, it can prove superior to Airstrike in certain situations.
Epic Battle Fantasy 3
It is called simply "Tank".
Tank
Hits all foes with bomb-elemental attacks.
Target
Type
Element
Status Effect
Acc
Crit
RdF
All
80%
--
90%
20%
10%
Level
Power
Status Chance
Status Strength
MP
AP Cost
1
40/8
--
--
20
1000
2
60/8
--
--
25
2000
3
80/8
--
--
30
4000
4
100/8
--
--
40
8000
Requirement(s)

Note: When initiated by Officer's Hat, power is forced to 60/8.
Epic Battle Fantasy 4
Tank Guns
Targets all foes. Low accuracy. Hits 8 times.
Target
Type
Element
Status Effect
Acc
Crit
RdF
All
50%
--
70%
10%
10%
Level
Power
Status Chance
Status Strength
MP
AP Cost
1
57.6/8
--
--
20
750
2
76.8/8
--
--
26
1500
3
96/8
--
--
32
3000
4
115.2/8
--
--
38
6000
Requirement(s)