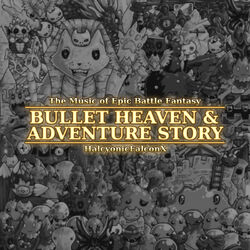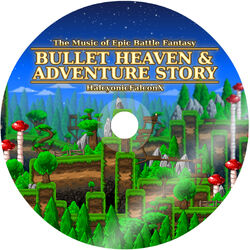 The Music of Epic Battle Fantasy: Bullet Heaven & Adventure Story is an album released on November 6, 2011. It contains the combined soundtracks of Bullet Heaven and Adventure Story, both of which were composed by Phyrnna. It features a total of 12 tracks from the games, and the physical version also features an artwork created by Matt Roszak as disc's cover art.
It is available on Phyrnna's Bandcamp page both in digital version for the price of $8 USD and physical version for $10 USD. $1 of every sale goes straight towards the Ann & Robert H. Lurie Children's Hospital of Chicago.
Tracklist
Total length - 25:55
Tracks 1-6 are from Bullet Heaven
Tracks 7-12 are from Adventure Story
Community content is available under
CC-BY-SA
unless otherwise noted.