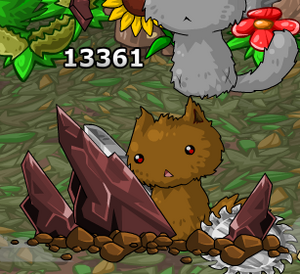 "Earth attacks are mighty strong against, er... foes that are close to the ground, I guess."
―Matt, Epic battle Fantasy 4

Tremor is a basic Earth-elemental skill available for Matt in Epic Battle Fantasy 3 and 4.
Description
When cast, a small stalagmite erupts beneath an enemy, dealing light Earth-elemental damage. Tremor is the most basic skill in Matt's move-set and is quickly replaced by his advanced Earth skill - Quake, and later on, Cataclysm.
Equipping Earth-based weapons such as the Gaia Axe or the Gash Club will boost the power of Tremor.
In EBF4, Cave Crab, Rock Sprite and Rock Turtle can also use Tremor.
Epic Battle Fantasy 3
Tremor is one of Matt's default skills.
Tremor
Basic earth attack.
Target
Type
Element
Status Effect
Acc
Crit
RdF
Single
50%
--
95%
10%
10%
Level
Power
Status Chance
Status Strength
MP
AP Cost
1
30
--
--
3
N/A
2
40
--
--
5
30
3
50
--
--
7
60
Epic Battle Fantasy 4
Tremor is one of Matt's default skills when he joins the party in Ashwood Forest.
Tremor
Basic earth attack.
Target
Type
Element
Status Effect
Acc
Crit
RdF
Single
50%
--
100%
10%
10%
Level
Power
Status Chance
Status Strength
MP
AP Cost
1
30
--
--
3
N/A
2
40
--
--
5
15
3
50
--
--
7
30