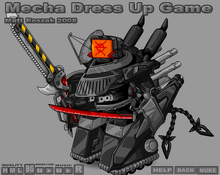 Epic Battle Fantasy: best RPG series ever, or BEST RPG SERIES EVER? You decide!
WARNING! WARNING! EXTREME RANDOMNESS AND LONG-WINDED RAMBLING BEYOND THIS POINT! PROCEED WITH CAUTION!!!
Preferred Builds (IN-PROGRESS)
The following is a list of my commonly-used builds in Epic Battle Fantasy games, along with my general commentary (and stupid nicknames) for each of them.
Matt
The Mustached Canadian Hobo
Weapon: Ultra Pro 9000X
Hat: Spelunking Hat
Armor: Hobo Clothes
Flairs: Fake Mustache, Target Badge
Description: I'm fairly certain that this is the single most efficient stealing build in Epic Battle Fantasy 5; with one use of Steal Item, Matt can make off with four drops at once! Throw in the Accuracy boost of the Spelunking Hat and Target Badge (for dodgier foes) and some Encore support from an ally, and this build becomes the core of my eight-step strategy for farming rare Materials:
Have Matt use Steal Item on a foe.
Have Player 2 use Encore on Matt.
Have Matt use Steal Item on another foe (if available).
Use Player 3's turn to Flee.
Wait a few seconds for Encore's cooldown (find new foes if desired).
Repeat until bored or satisfied.
???
PROFIT!!!
Retro Chaos Necrosanta
Weapon: Alt Golden Axe
Hat: Alt Santa Hat
Armor: Alt Coat of Teeth
Flairs: Alt Pixel Glasses
Description: Notable only for being Matt's default loadout at the start of my first Custom Game campaign. Not as efficient as you might think for the first few Foe Remix battles.
PENDING
Weapon:
Hat:
Armor:
Flairs:
Description:
Natalie
Knifalie/Natalie's Inner Yandere
Weapon: The Knife
Hat: Blue Elephant
Armor: Red Dress
Flairs: Sword Medal, Pocket Watch, Hoop Earrings
Description: If you're going to use The Knife, you might as well go all-out with its benefits. This build lets Natalie dish out pretty good physical damage with a high chance of Instant Death; if the Pocket Watch decides to give her Haste, all the better!
PENDING
Weapon:
Hat:
Armor:
Flairs:
Description:
Lance
Death Gunner
Weapon: Spine Snapper
Hat: Captain's Hat
Armor: Flame Suit
Flairs: Hoop Earrings
Description: When you absolutely, 100% need something dead ASAP, this is the build of choice. Throw in some Good Luck and Bad Luck application (oh hey Firecrackers), and nothing short of high Death resistance is going to save the opposition from getting wiped out by Unload (or Double Shot, if Unload's cooling down). It's also not bad for applying other status effects, too - add your status Flair of choice for the optimal support!
PENDING
Weapon:
Hat:
Armor:
Flairs:
Description:
Anna
A3 (Ailment Archer Anna)
Weapon: Alchemist's Bow
Hat: Blue Elephant
Armor: Red Dress
Flairs: Any status-changing Flair
Description: The classic status build, customized with the status-changing Flair that fills the best hole in Anna's coverage (usually the Crossbone Pin or the Amethyst Earrings in my case). I often teach her Gaia Blossom with this build to give her a source of Tired that doesn't rely on the Bitey Badge. This build works hilariously well on Hydras.
A4 (Ailment Archer Angel Anna)
Weapon: Angel Wing
Hat: Blue Elephant
Armor: Red Dress
Flairs: Any status-changing Flair (unless Weaken is desired)
Description: A variant on the A3 build that sacrifices a bit of status infliction chance for handy support functions (automatic Arrow Rain and Auto-Revive between turns). Useful for times when Anna needs to be doing things other than applying status effects...or applying multiple status effects in quick succession to less resistant foes (e.g. Snowflake).
PENDING
Weapon:
Hat:
Armor:
Flairs:
Description:
NoLegs
N3 (Neon Ninja NoLegs)
Weapon: Neon Lightbulb
Hat: Basket Hat
Armor: Ninja Gear
Flairs: Agnry Faic, Cat Tail, Fairy
Description: Outside of Equip Remix, this is probably NoLegs's best option for a dodge-based Target tank - maximum Evade, and a combination of Target, an Evade buff, and Auto-Revive to draw enemy fire and give the little guy a bit of a safety net if anything manages to hit him (especially magic attacks, because the Ninja Gear also applies Invisible on Defend). Sometimes, I switch out the Cat Tail for the Companion C*be if I feel like adding an extra safety blanket in exchange for some Evade.
Berserkat
Weapon: Viking Buckler
Hat: Horned Helmet
Armor: Viking Fur
Flairs: None in particular
Description: Yes, I know this isn't the most efficient set-up for a Berserk NoLegs build (which is itself not very efficient), but I have a soft spot for it after I tried it against Poseidon. I don't think I've ever seen Ores die so fast; even with the tendency to occasionally use his Normal Attack or target the main boss with Final Cutter after killing an Ore, NoLegs literally cut through the little guys almost as fast as Poseidon could summon them. And as a bonus, it makes NoLegs very resistant to most of Poseidon's elemental attacks, too!
Xmas Demon DogLegs
Weapon: Alt Devil's Sunrise
Hat: Alt Puppy Hat
Armor: Alt Santa Outfit
Flairs: None
Description: NoLegs's starting loadout for my Custom Game playthrough, as well as the loadout that makes me REALLY wish I had a third armor so I could switch his armor with Matt's. Might as well cram all the Shroud on one character, right?
PENDING
Weapon:
Hat:
Armor:
Flairs:
Description: